Cristiano Ronaldo 5 Goals in One Match against Granada
Cristiano Ronaldo is known to have created many miracles in his football career. Hat tricks, goal records, awards, and so much more! Fans wait for something amazing from Ronaldo in every match. And one of the most amazing things he has done is score 5 goals in a single match!
Cristiano Ronaldo 5 Goals in One Match against Granada
[MyAd]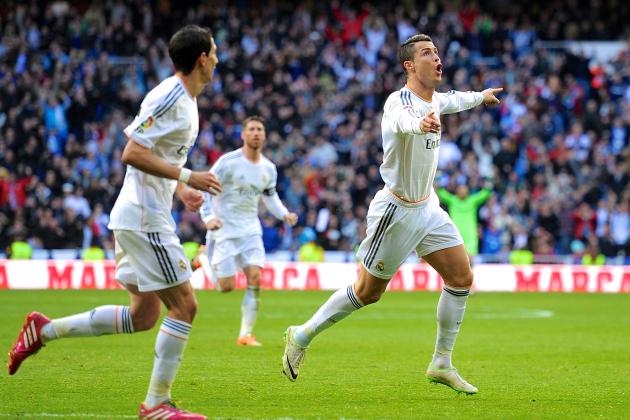 Back in April 2015, Real Madrid faced Granada in a match at Santiago Bernabeu, and during this match, Granada got shredded to pieces by Ronaldo and his team. The team scored 9 goals against Granada who only managed to avenge the number with just 1 goal.
Of these 9 goals, Ronaldo himself scored the majority, with 5 goals! The first three goals of the match were scored by Ronaldo in just 8 min, and thus he achieved the quickest hat trick in his career. Ronaldo's fourth goal of the match came in the just 16 min later, while his 5th goal was scored 35 min later.
[MyAd]
These goals also took his tally in La Liga to 36 for the season, which was more than half of Europe's top teams! And with his record of 36 league goals for the season, he overtook Lionel Messi's 32 goals. It put him in the amazing position of scoring more goals than 53 of the 98 teams in Europe's top five leagues during that season.
Ronaldo has been under the scanner Ronaldo has been under the scanner for a long time now. Critics have been saying that Ronaldo is facing a decline of form. yet, time and again, he has proven himself. Even in 2015, it was discussed, after a few slow matches, that Ronaldo has lost his form. Yet, he scored five goals in a single match and showed the world that he is someone to be feared on the field.
The criticisms have not subsided yet, even after his awards in 2016. Haters are still attacking every single performance of Ronaldo's. It's likely that he will prove himself as one of the best in 2017, as well!
http://www.dailymotion.com/video/x2m0van
[MyAd]