Cristiano Ronaldo has recently given an interview to "France Football". An interesting interview in which he unveils answers to many famous questions like his rivalry with Lionel Messi. In the interview he talks about his habits and routines and the meaning of his shout during the acceptance speech at the 2014 FIFA Ballon d'Or ceremony.
The routines and habits he talks about in the interview surely says that Ballon d'or has not lead him carried away. He exercises daily and his habits are worth reading. He also unveils the secret behind his rivalry with Messi.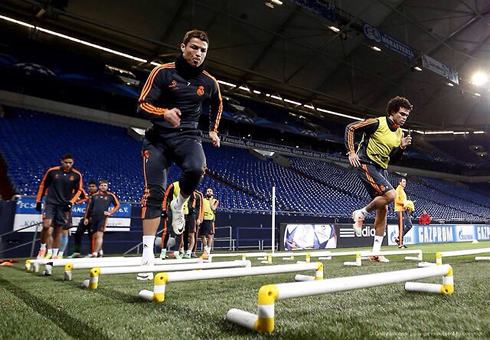 Ronaldo's fitness is one of the reason behind his tremendous success. It not only comes with hard-work but persistence. Some say that the body he have could help him to play till the age of 40 if he doesn't pick any serious injuries in the years ahead.
"If I'm capable of playing more than 60 games per season and do that year after year, that's because I pay a lot of attention to my body and my health. I sleep well, I eat well. I'm very meticulous with these kind of things, otherwise my body wouldn't respond as it should", says Portugues star.
You may also like: Cristiano Ronaldo Cars Collection
"These days, I've been focusing more on trying to improve my left foot, my acceleration and the free-kick shooting. Those are particular areas of my game where I haven't been at my best lately, but I know I can improve them. One simply has to be humble enough to understand that without hard work, we don't go anywhere. My secret is to always work hard", commented the Real Madrid star, who recently split from his former girlfriend, Irina Shayk.
Messi and Ronaldo's behaviours during Ballon d'or surprised everyone. The positive remarks about each other prior to the ceremony shows their rivalry is only in the field and outside they are just good friends. And it was proven by Ronaldo's action to encourage his son to great the Argentinian, who is apparently one of his idols. According to CR his rivalry with Leo is in the benefit of both. His positive attitude is shown by his comment.
[myad]
"It's probably true that having a player like Messi around, also plays an important part in keeping my motivation levels on top. Having other footballers of this quality competing with us ends up encouraging us to keep getting better and better. All sort of competitiveness is prone to bring an extra motivation factor and I'm sure that this is also something that helps Messi going that extra mile in trying to become the best player in the world. It's good for me, for him and for all those who want to become better players. Messi has 4 Ballon d'Ors and I have 3. In my opinion and in a general way, I believe this is good for football…"
The acceptance speech on stage after winning the Ballon d'Or was made unusual when the Portuguese striker decided to mark the occasion with a scream.
Cristiano Ronaldo: "That's the shout my team-mates and I give in Real Madrid for 3 years now, everytime we celebrate our goals and some of the victories we accomplish. We do it all the time, both in matches and in training sessions. I'm aware that some people may not have understood the real motive for which I've done that, but I believe it has been a nice gesture. That was the way I found to thank my team-mates for the award and to make them feel that they've played an important role for me to win it. They've always been by my side, just like I've always been there for them. I feel extremely fortunate because I'm currently in the best dressing room I've ever been at since the beginning of my career", says the Real Madrid start explaining the reason behind the shout.